PRIME AV MAGAZINE
We Will Provide 2.35:1 HD Enjoyment for Enthusiastic Image Fans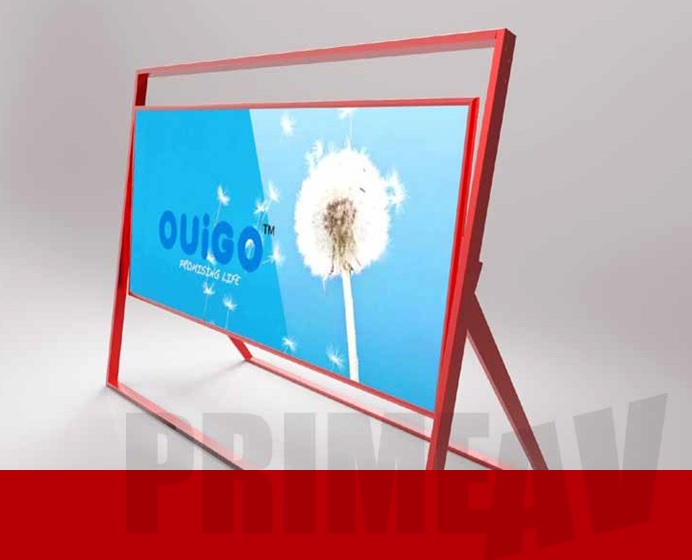 In comparison to other display makers, OUiGO is a special brand, with which Maxtek Go-Go engages in large scale display. Maxtek Go-Go started off by providing cloth, ready-made-clothes, medical devices, so that its view point is different from other display makers. It pays more attention to health, environmental protection and comfort. Ming-Lai Wu, its GM, considers things differently without limitation to existing thought of traditional display industry. He considers things from different angle and different view points in order to provide consumers better products.
OUIGO has a new product program recently to promote 100-inch 2.35:1 projection panel for enthusiastic image players. When talking about promoting the idea for this product, GM Wu expresses: The purpose of film industry is to provide audience immersive feeling. To achieve such effect, hyper visual field coverage is a necessary condition. We would like to have endless, invigorating feeling just like we are facing ocean. Small size or 16:9 screens cannot meet our requirement, so that the film industry creates such 2.35:1 ultra wide specification.
Breaking TV Industry Norms, Promoting 2.35:1 FPD Device
However, nearly no one promotes such 2.35:1 specification in the FPD TV market now. The specification has been changed to 16:9 completely, and the mainstream size is between 40 and 60 inch. It is very difficult for such sizes to fulfill the "immersive" requirement. There is large gap from the effect that movie director desires to deliver. However, it is exactly the opportunity of QUiGO. The size of this product reaches 100 inch in compliance with 2.35:1 required by the film industry. The maximum visual field coverage is achievable. GM Wu expresses that this product of OUiGO may be regarded as "worldwide first 2.35:1 FPD device" in FPD TV market.
During the interview, GM Wu highlights that "This is definitely not a projection screen!" Compared to simple projection screen, what we hope to deliver to consumers is that OUiGO utilizes high tech cloth for its core, in conjunction with uniquely developed anti-reflective glass panel, and border well-designed on the periphery. The viewing quality is comparable to FPD TV without loose image issue existing in general projection screens. The color saturation is high, the contrast is distinct, and the profile/detail of object image is sharp.
In addition to HD, OUiGO persists in keeping the philosophy of environmental protection and health. Its images will not suffer from higher brightness and eye irritation, which issues exist in LCD TV, and there is no flicker issue as traditional TV, so that eyes will not get hurt in long time viewing. Moreover, the entire suite of equipments does not contain heavy metals and pollutants, and is more environment friendly compared to FPD TV.
GM Wu expresses that his idea is to erect this suite of large size projection panel in an approximately 8.27-square meters small space for use. He regards that an ideal home environment should be planned such that middle living room is where members of the family communicate and spend time together. Such space may not be suitable for erecting dedicated theater. A better choice may be to plan the theater in another dedicated space for use, such that this space may achieve the highest standard of effect. For example, a 2.35:1 film could be watched directly without any setup (16:9 is not under consideration). OUiGO New TV Screen could correspond to a projector of any resolution, including 4K. Viewing distance could be shortened as the corresponding resolution is sufficiently high, such that the display device could be viewed more closely. An approximately 8.27-square meters space applies, too. GM Wu recommends the use of yellow light to achieve the optimal effect, instead of white light, which results in stimulation, such that image effect will get better and relative comfort, and less pressure could be achieved in viewing.
Large Size and Trade Fair Products Are Also Available
In addition to this 2.35:1 product, OUiGO will also promote two products for different types of consumers recently. One is 120-inch 16:9 projection panel, which also utilizes high tech cloth, uniquely developed glass panel, and well-designed border. It focuses on pure large size enjoyment.
The other is "display box" for teaching in trade fair. This product has a square screen on the front surface. The square screen has a size of about 25 inch, and may be stacked/combined arbitrarily to different heights/styles. Moreover, the box may be coated by different colors with respect to appearance, so that not only trade show message could be presented after stacking, but also it may be used as an installation art in a shopping mall. It is expected to use front projection for imaging. The designs mentioned above will all be shown in Computex Taipei in this June. GM Wu expresses that conceptual products, which are not defeated by large Japanese/Korean makers, will be presented in the exhibition. People could expect.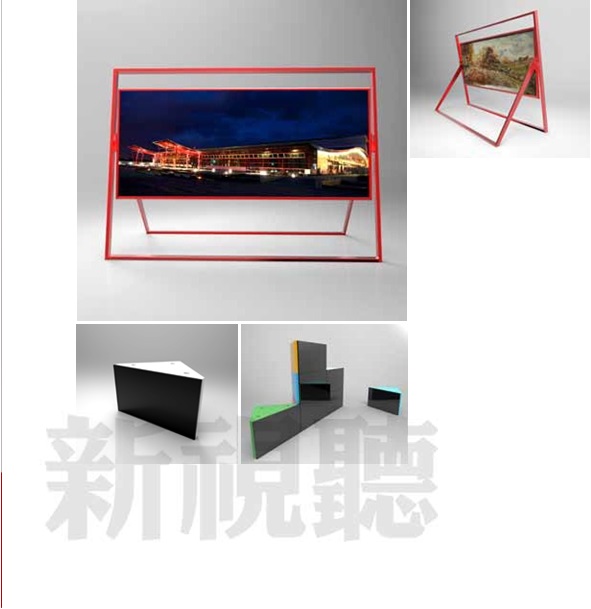 1: New main product of OUiGO will lock enthusiastic image players by promoting 2.35:1 ultra wide proportional projection panel to increase visual field coverage for players to feel immersive.
2: For both 2.35:1 and 16:9 articles of manufacture, OUiGO has beautiful stands designed for them. It will be a pretty rare design, which is not defeated by large international Japanese/Korean makers, for both materials and display quality.
3: In addition to 2.35:1 product, OUiGO also promotes 120-inch 16:9 version simultaneously. This product claims simple large size enjoyment, capable of corresponding to general 16:9 daily programs.
4: OUiGO also promotes a unique display box for trade show or teaching with a frontal size of 25 inches and a triangular body for it to be spliced with other display boxes easily.
5: The figure shows the effect after stacking several 25-inch display boxes. It has various color combinations, and can be combined into different shapes arbitrarily. It may not only display messages, but also act as an installation art. Front projection is planned to be used for imaging. It might be shown in Computex in June.