【China South City Electronic Channel News】
Worldwide Largest OUiGO New TV Screen Challenges Vision Limit of All People
As intelligent network TV populates, general home TV screen is getting larger, and the display is going forwards from HD, ultra HD, 4K, 8K etc. However, LED back lighting technology is used for general TVs, wherein LED blue light hazard is always an issue under dispute in the industry. For people to enjoy healthier home multimedia entertainment, OUiGO Display Technology (Shenzhen) Co., Ltd. (the head office is Maxtek Go-Go) has developed a new large TV - OUiGO New TV Screen.
Ming-Lai Wu, the business director of OUiGO Display Technology, expresses in interview that "OUiGO New TV Screen" is based on the nearly 30 years of experience in textile technology, employs microstructure, and utilizes environment friendly pollution free steel based substrate, together with conducting material and semiconductor material, to manufacture large environment friendly TV, which is drop and water resistant. Projection is utilized to fulfill consumer requirements, including 4K, 3D, wide viewing angle, high color saturation and long lifetime, and can protect eyes to the maximum extent.
In comparison to traditional TVs, the projection television may support larger display area, such that the viewing angle is wider and there is no dead angle when viewing; in comparison to hyper-large panel TV, the product is pretty advantageous with respect to price in that "our price is half of their price for large TV having the same size"; in comparison to traditional TV with respect to eye health, the frames on the projection screen are softer, are not offending to eyes for long time viewing, and do not cause fatigue.
In addition, OUiGO New TV Screen uses special projection screen, so that even general commercially available projectors can achieve mega pixel definition. The unique frame screen is capable of semiconductor anti-static treatment, is dust free, and may sustain clean.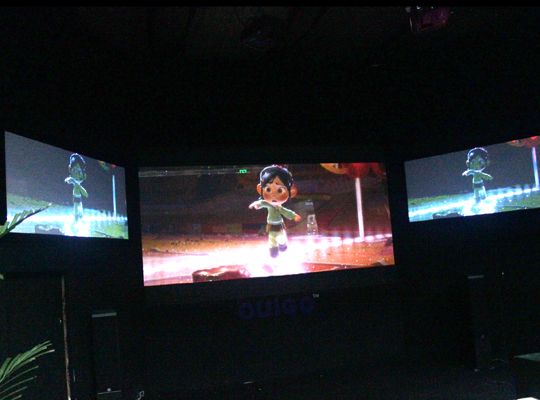 "Certainly, 'OUiGO New TV Screen' may also include intelligent control by using handset APP etc. for control. It is applied essentially to commercial TV wall, advertisement signboard, teaching & education, video conference, digital advertisement, touch interaction, 15-people small cinema, home theater, partition wall projection and smart home etc. to fulfill many applications. " introduced by Ming-Lai Wu.