Ming-Lai Wu of Maxtek Go-Go: ViVi Crystal Screen Introduces Better Visual Sense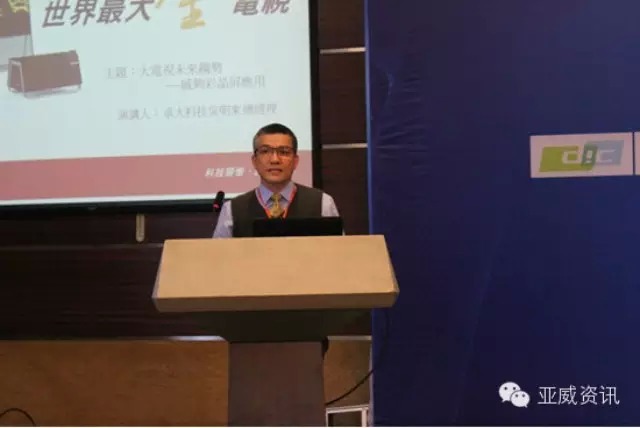 In recent years, LCD technologies and applications are developed faster and faster. The size of displays will become larger and display types will get more, too. In China (International) Flat Panel Display Exhibition 2015, Ming-Lai Wu, the general manager of Maxtek Go-Go Taiwan presents technical report of " New TV Screen" to share OUiGO ViVi Crystal Screen technology and its applications essentially.
According to the introduction, in response to industry upgrade policy in Taiwan, Maxtek Go-Go was founded in New Taipei City in 2002, and started display business on the basis of research foundation of Maxtek Go-Go on materials. "Maxtek Go-Go comes from textile industry with thorough knowledge about textile materials, while such knowledge is the basis to create ViVi Crystal Screen", said Ming-Lai Wu. At the same time, in view of developed electronics/IT industry and excellent policy environment in Shenzhen, Maxtek Go-Go established OUiGO Display Technology (Shenzhen) Co., Ltd., a branch office in Shenzhen, in 2002.
Ming-Lai Wu expresses that Maxtek Go-Go, which holds "health, environmental protection, care" as philosophy, not only emphasizes on applications of environment friendly materials, but also pays attention to health and humanistic concern, devoting to providing displays with wide viewing angle, high contrast and high saturation for the society.
For ViVi Crystal Screen process, Ming-Lai Wu expresses that ViVi Crystal Screen of Maxtek Go-Go applies the most advanced technology, utilizes very thin semiconductor materials, and embosses the surface, followed by packaging, vacuum pumping at a temperature up to 700 degrees celsius to present better color saturation and brightness. Compared to active luminescence model, the passive model used for the ViVi Crystal Screen of Maxtek Go-Go distributes images on four corners uniformly, such that the entire screen is crystal clear, visible dots are uniform throughout the screen, and the stereopsis is also better. Also, Maxtek Go-Go ViVi Crystal Screen uses projection technology with the concept of rear projection display, such that the thickness of screen is very thin, which is only 1.2 cm. In addition, with the embossed surface material, images of ViVi Crystal Screen have automatic 3D-like effect. Real 3D is possible if the technology is improved further.
Currently, the size of ViVi Crystal Screen of Maxtek Go-Go is above 100 inch basically. In addition to large-sized ViVi Crystal Screen products, Maxtek Go-Go also provides 25-inch spliced application product, which may be connected onto the wall without constraint and without any tool, so that the operation is very easy and it is very stable. At present, this product is applied essentially to TV wall, media advertisement, teaching, numerical control, 15-people mini-cinema, home theater, smart home etc.