ChinaFPD.net
In the China Information Technology Expo held in Shenzhen few days ago, OUiGO New TV Screen created by Maxtek Go-Go Taiwan shows a 140-inch projection panel.Which has become the largest projection panel all around the world.
Ming-Lai Wu, business director of OUiGO Display Technology (Shenzhen) Co., Ltd., tells the reporters that their projection panel has a price that is only about one twentieth of the price of other same-sized LCD products, the high cost-performance ratio makes OUiGO more and more popular in the market.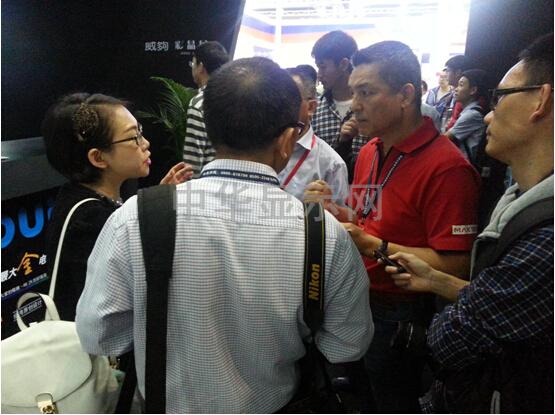 Ming-Lai Wu tells the reporters that OUiGO projection panel is advantageous of fashion & simplicity, supporting HD 4K quality, high cost-performance ratio, uniform color without chromatic aberration, even & soft brightness, long lifetime and attrition-resistance, 12mm enhanced material, and green environment friendly material,etc.
Currently, OUiGO provides two mainstream specifications, 16:9 and 21:9, wherein the standing size for 16:9 ratio includes 100 inches and 120 inches, while the standing size for 21:9 ratios includes 100-inches. In comparison with TV, the projection screen may support larger display area. In comparison with large-size FPD TV, OUiGO products are superior in price. For example, the price for commercially available 100-inch LCD TV is 950,000 CNY now, but the price for the projection panel of the same size is pretty attractive . Thus, the equipment is popular in many casinos, clubs and hotels.