Economic Daily News
150-Inch Large Screen with Glass Projection - Breaking through Spatial Constraint, Creating Trend of Home Theater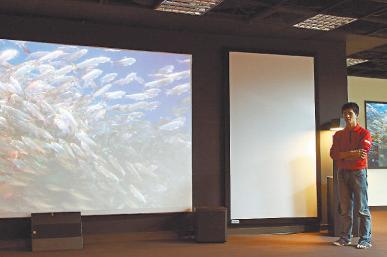 Since the invention of TV, the movement from monochrome TV to color TV was the first evolution, and the progress from CRT to LCD is the second breakthrough. From market view point, large size is the inevitable trend of TV.
Many people regard that the development of TV has been ended without further innovation possibility. However, this is not true. Advancing technology is driving new generation of TV. In addition to the close concentration on the launch time of Apple iTV, the 60-inch large TV promoted by Hon Hai last year induced new trend with surprise. Hecto 100-inch laser TV promoted by LG in CES exhibition in the beginning of this year also caught eyes of the market again.
LG announced that its product is "future TV". It sounds that LG desires to redefine new generation of TV. While discussions continue in the market, Maxtek Go-Go has already promoted glass projection screen, which is laser TV, since 2008 and leads LG by more than 5 years. This catches eyes of people.
This laser TV is comparable to panel TV, having a dynamic contrast of 1,000,000:1, and being capable of projecting an 100-inch 1080p Full HD screen at a distance of 56 cm. SONY also has promoted a new 80-inch TV, which can be viewed within 150 cm for viewers to get involved in the screen at a near distance without any tension.
Ming-Lai Wu, the general manager of Maxtek Go-Go, expresses that the glass projection screen was not promising in the market when it was promoted initially, and was regarded as an unorthodox product and was criticized. However, the company did not give up. Currently, mass production of 150-inch above large size products is already available. In the end of last year, a video showroom with a footprint of over 670 square meters was established in Hsin-tien to show a complete new generation of home theater. New creations for commercial applications breaking through spatial constraints are brewing. TEL of Maxtek Go-Go: (02) 2917-6675.